As an alternative to making a layout in paint, concrete, or wood,
then BRICK can also be used to create a very nice effect - set
into paved 'patio' areas. The first photograph, below, illustrates
an example of this technique at a farmhouse in Wales - and the
second photograph, under it, shows a 'close-up' of these bricks.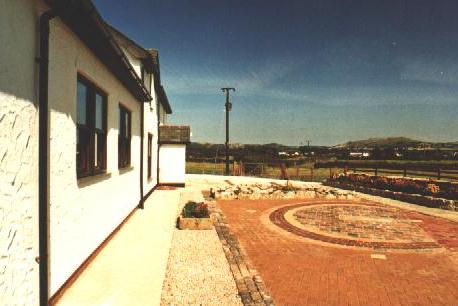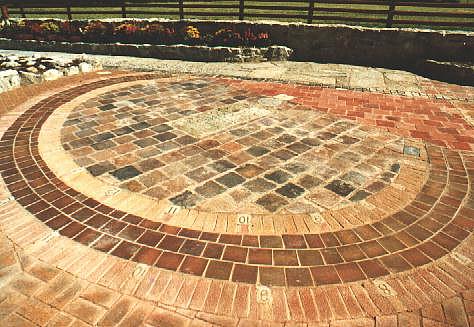 A layout (on grass), is illustrated in our next category - and has
made use of ordinary bricks, set-out to create Roman numerals.


In those pictures above, the various "Sunclock" markings were
simply sand-blasted on to normal bricks - a method which can
also be used on most other types of 'hard-landscape' materials,
or a 'terrazzo' technique is another alternative for such layouts.



Rather than just 'sand-blasted' markings, you may prefer to use
the services of an artist who can create complete custom-made
"Sunclock" kits for you - either in brick, or hand-carved stone.

'Reconstituted stone' kits are also available, at a cheaper price.



Instead of installing a fully 'hard-landscaped' layout, it would be
much cheaper and easier to use gravel as an 'in-fill' material for
surrounding any "Sunclock" parts - and is maintenance-free !


For example, here is a photograph of a public layout located at
"Jubilee Wood" (near Acle, Norfolk, UK) - using gravel for the
main 'background' material, surrounding its "Sunclock" parts.

It also has a post-mounted display board, showing how to use
the Human Sundial - though we recommend these should be
positioned on the Northern side of a layout, and thus avoiding
the post casting its own shadow across the "Sunclock" itself.
(See our advice on ground-level and post-mounted 'plaques').

The construction of this layout was quite unusual, because its
Hour-markers were made using plastic 'drainage pipes' which
were sunk into the ground, and then filled with concrete - as
illustrated in the second picture, below. Using that method, it
certainly ensures that a layout will be vandal and theft-proof !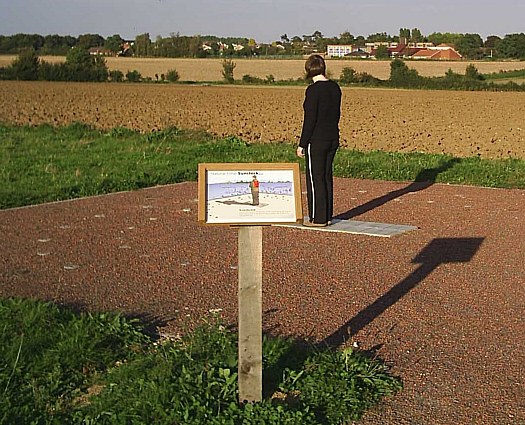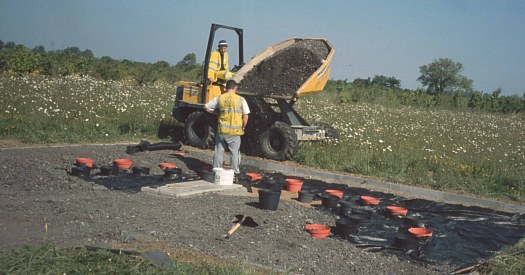 Here is another totally 'maintenance-free' layout, plus also using
simple concrete parts set into a gravel background - and which
is situated at the "Lower Fields Primary School" (Bradford, UK).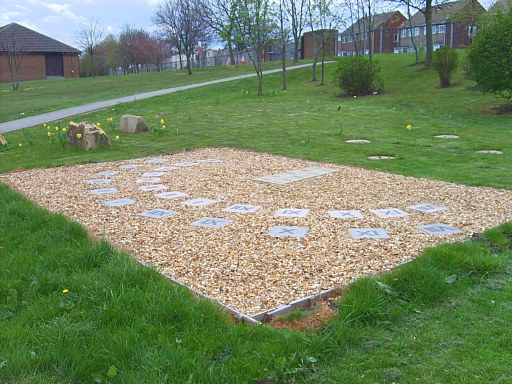 Our next photograph is a more close-up view, of its Date-scale,
plus with an additional sequence of 6 small pictures illustrating
how it was created - from 'bare site', to the completed feature.

Note that the location had to be 'levelled' slightly, because this
grassed area was on a North/South slope - since "Sunclocks"
are only suitable for installation on to a FLAT piece of ground !

Some further details of suitable locations, can be found on our
'Frequently Asked Questions' page - plus the importance of a
level site, in the section dealing with setting-out a "Sunclock".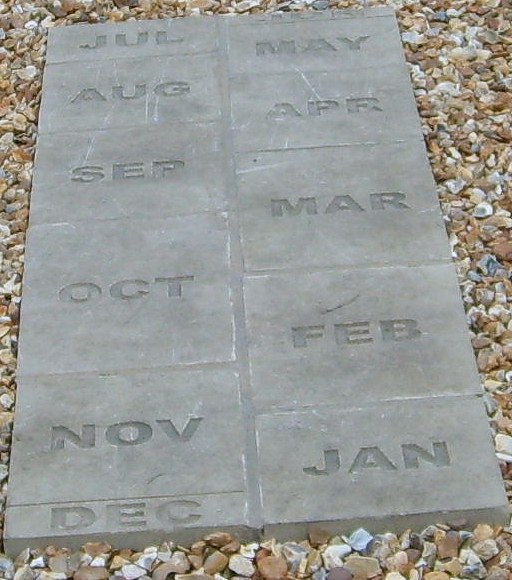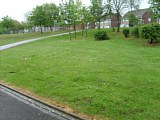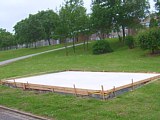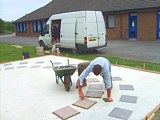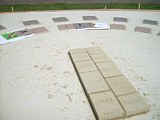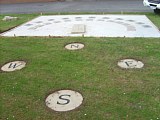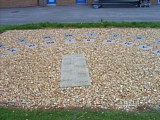 "Sunclocks" are always extremely popular with schools, due to
many curriculum-wide educational benefits of Human Sundials.

For example, it will demonstrate the change of Seasons during
the year (as well as being a useful interactive 'art' project, too).

They are often used as a central feature within school gardens,
(or any similar environmental area) - and simply painted on to
tarmac playgrounds, as a part of 'outdoor classroom' activities,
though wood or mosaic are also good Do-it-Yourself materials.


However, particularly for grassed areas, you may prefer to use
a ready-made 'kit' - and the photograph below shows a typical
layout, situated at "Long Ridings Primary School" (Essex, UK).

The three small pictures, under it, are stages of its installation.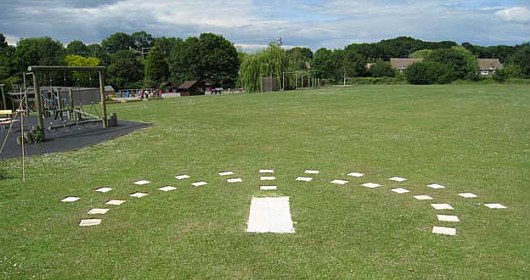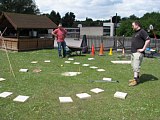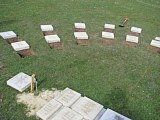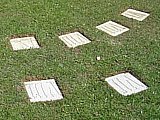 If you would like to see some more of the photographs


you can return to our 'Picture Gallery', by clicking on this icon.

OR


Click on Red Button, to return to FIRST PAGE.



Should you have any questions, then please contact us via our
Response Form - or click on this link to see why "Sunclocks"
have become so popular, when compared with other sundials.


Remember you could also make money with Human Sundials,
so please contact us if you may be interested in generating an
income, from this very unusual 'opportunity'. We suggest that
you telephone us, plus ask to speak direct with Douglas Hunt,
whose sundial plans have been in use world-wide since 1986.

Douglas should then be able to discuss several 'possibilities',
and give some advice suited to your personal circumstances.


Our unique sundial designs are located in numerous different
situations - from Schoolyards, to private gardens and Parks,
as well as courtyard sundials at prestigious "Stately Homes".


"Sunclocks" are very interactive sundials for children - plus
all of our sundial layouts are 'customized', for YOUR location,
so you can be sure that it would show the correct clock time.


These are particularly popular within the Educational Sector,
due to many 'curriculum-wide' aspects, of a Human Sundial !

You could click these links to see why "Sunclocks" are now
often used as school sundials, plus the benefits for teachers
(including 'fund-raising') of these novel sundials for learning.


As garden sundials, there are advantages over the 'pedestal'
type - mainly since our ground-level "Sunclock" cannot be
stolen, plus it does not interfere with grass-cutting of a lawn.

Click here to find why this sundial has become very popular,
when compared with some of the other 'conventional' types.



Click on this 'book' icon, to see a list of ALL the pages in our web-site - and
select your choice of category, from within that
'Sitemap'
section :