If you prefer a more permanent layout, instead of just painting
it on the ground, then using concrete is probably the simplest
alternative - and (as the photograph below shows), even very
young children can quite easily make their own concrete mix !

Usually, this is just four parts of sand to every part of concrete
powder - but you would get a 'stronger' mix, using less sand.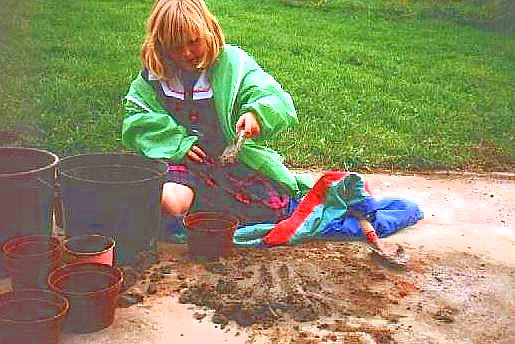 You could use any suitable 'molds' (like a flower-pot) to make
the Hour-markers, or maybe just spread a thin layer of mortar
over normal concrete. You can even add some concrete 'dye'
to create different colours. While this concrete is setting, you
could also add the Hour 'numbers' - by pushing crushed sea-
shells, small pebbles, bits of broken pottery, or glass marbles
(to reflect the sunlight), etc - directly into your mixed mortar.

There are pictures of that method, in our mosaic section - or
you can find details of a ready-made concrete 'kit', which has
colourful stained-glass markings, on those component-parts.

Colouring and 'texture', can create different concrete effects.


If you might be interested in making similar "Sunclock" kits,
(in any material) - then please contact us, for further details
of how to make money based around these Human Sundials.



The photograph, below, shows a group of young children (and
their teacher), holding some finished concrete 'Hour-markers'.
In this case, they just painted the numbers on to those blocks.

Our "Sunclocks" are highly 'interactive' sundials for children,
plus featuring in School-books (for both the UK and America).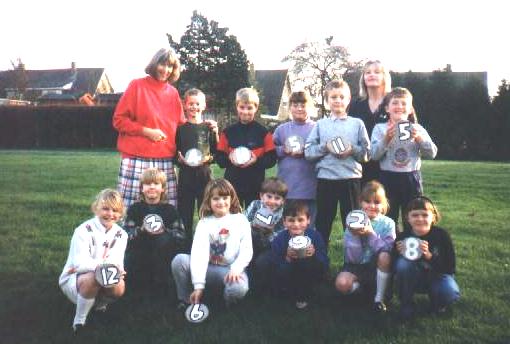 As well as simple 'Do-it-Yourself' concrete layouts (like those
shown above), "Sunclocks" are often used as an 'interactive'
feature within 'hard-landscaped' areas - perhaps using metal
parts, which are embedded into a surface of poured concrete.

The four pictures, below, show how these are normally made.
This one is at the "Cobb Astro Park" (in Massachusetts, USA).

Firstly, its metallic parts are fixed on to slightly raised blocks
which are then accurately positioned using our Layout Plans.
This is illustrated in the large photograph, with a 'close-up' of
its brass numbers in the first of the smaller pictures below it.

The concrete is poured around these blocks until its depth is
level with the metal markings, plus is given a 'smooth' finish.
Our other two small pictures show this, (and final polishing).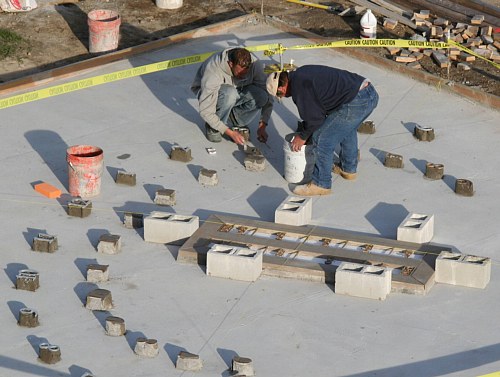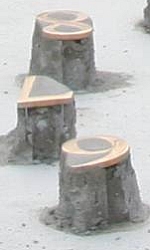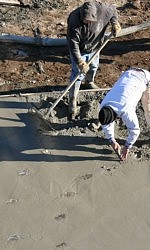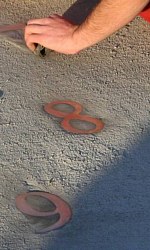 Instead of having expensive metal parts as the 'markings', it is
also possible to create them in the concrete "Sunclock" itself,
using a 'terrazzo' technique when the layout is being installed.

The following two photographs show that method, at a School
in Arvada (Colorado, USA) - the second picture is a 'close-up'
view of how such markings are created, on concrete surfaces.

For more details, please visit the "Design Concepts" web-site.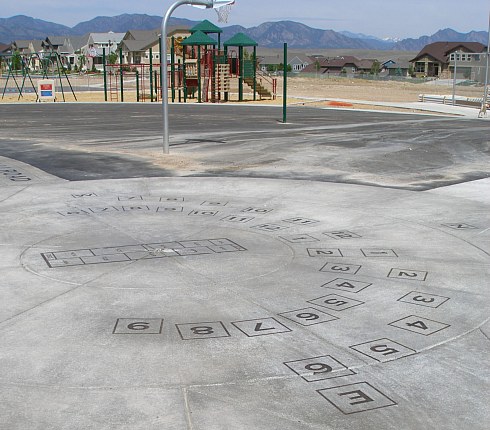 Although it is mainly Architects who would specify this type of
'hard-landscaping' layout - if you are interested, you can click
on this link to see more examples of professional "Sunclocks".

Alternatively, to make a 'maintenance-free' layout which will be
much cheaper and easier than those shown above - you could
use gravel as the background material, for any Human Sundial.



However, most concrete 'Do-it-Yourself' layouts will be set into
grassed areas - by using readily available paving slabs (either
rectangular, circular, or hexagonal) such as in a picture below.

This photograph illustrates a layout being created for a "Family
Development Center" in Houston, Texas - plus it was installed
as an 'Eagle Scout' project, which is also a very popular way to
have a useful and interactive feature in any local communities.

Just keep in mind, though, that "Sunclocks" within any public
areas could be TOO popular - and so we would advise you to
understand several 'implications' of this, before going ahead !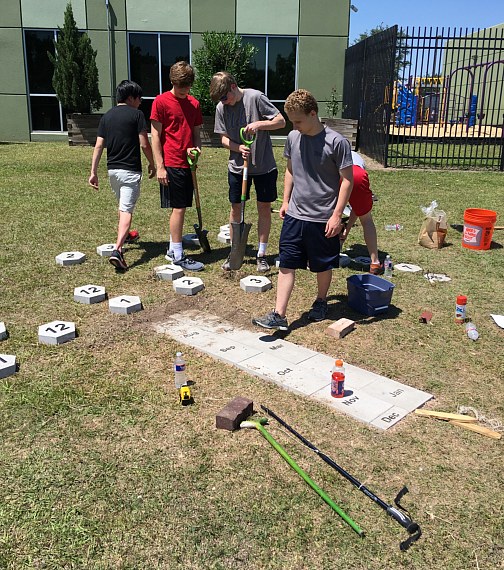 If you would prefer a really colourful "Sunclock", then you can
obviously just paint any markings on to a concrete base - and
by using transparent 'sealant', to protect colours from weather.

For example, the picture below is of an interesting 'Date-scale'
painted on concrete. Designed by some local school-children,
it was then professionally painted - plus is situated within the
"Franje Tudjmana Park", (which is at Velika Gorica, in Croatia).

You can see some similar examples of highly coloured central
'Date-scales', in the metal or mosaic sections, on our web-site.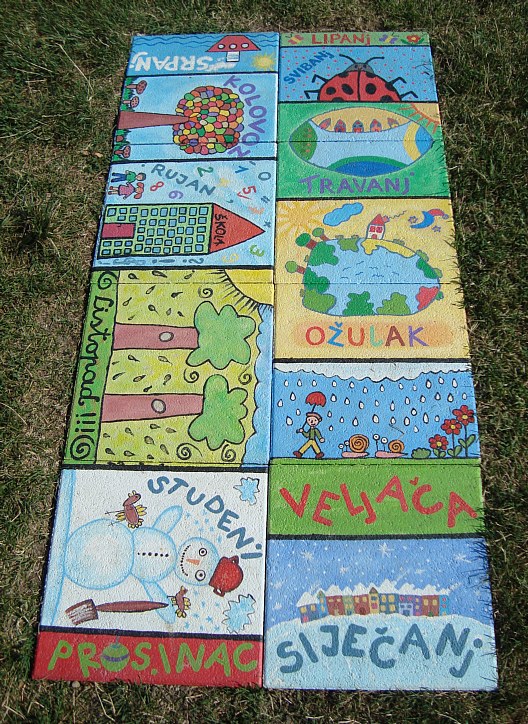 If you would like to see some more of the photographs


you can return to our 'Picture Gallery', by clicking on this icon.

OR


Click on Red Button, to return to FIRST PAGE.



Should you have any questions, then please contact us via our
Response Form - or click on this link to see why "Sunclocks"
have become so popular, when compared with other sundials.


Remember you could also make money with Human Sundials,
so please contact us if you may be interested in generating an
income, from this very unusual 'opportunity'. We suggest that
you telephone us, plus ask to speak direct with Douglas Hunt,
whose sundial plans have been in use world-wide since 1986.

Douglas should then be able to discuss several 'possibilities',
and give some advice suited to your personal circumstances.


Our unique sundial designs are located in numerous different
situations - from Schoolyards, to private gardens and Parks,
as well as courtyard sundials at prestigious "Stately Homes".


"Sunclocks" are very interactive sundials for children - plus
all of our sundial layouts are 'customized', for YOUR location,
so you can be sure that it would show the correct clock time.


These are particularly popular within the Educational Sector,
due to many 'curriculum-wide' aspects, of a Human Sundial !

You could click these links to see why "Sunclocks" are now
often used as school sundials, plus the benefits for teachers
(including 'fund-raising') of these novel sundials for learning.


As garden sundials, there are advantages over the 'pedestal'
type - mainly since our ground-level "Sunclock" cannot be
stolen, plus it does not interfere with grass-cutting of a lawn.

Click here to find why this sundial has become very popular,
when compared with some of the other 'conventional' types.



Click on this 'book' icon, to see a list of ALL the pages in our web-site - and
select your choice of category, from within that
'Sitemap'
section :