If you want a layout which is more permanent than paint, but is
easier than mixing your own concrete - WOOD can be used to
create a nice effect, and this is also a readily-available material.

Wooden layouts are popular in new School Gardens, (or similar
environmental areas) - and can even use 're-cycled' materials.
For example, two old 'railway sleepers' for your Date-scale and
an old 'telegraph pole' cut into rings to make the Hour-markers.

To create the 'markings' on these parts - you can just hammer
in small brass, or copper-headed, nails (which would not rust).

"Sunclocks" are also becoming popular as features on wooden
decking areas for gardens, as interesting 'conversation pieces'.


This first photograph shows the entrance to a "Sunclock" area
which is part of a School Garden - and uses wooden posts for
the Hour-markers, with its Date-scale being made of concrete.

A 'close-up' view is shown in the second photograph, below it.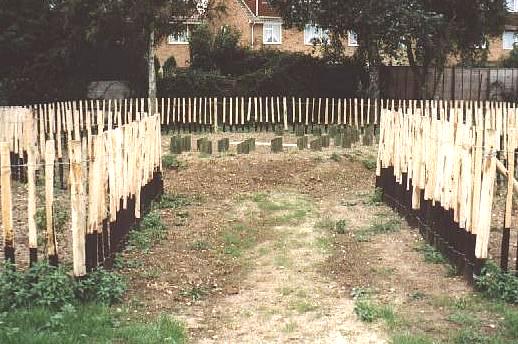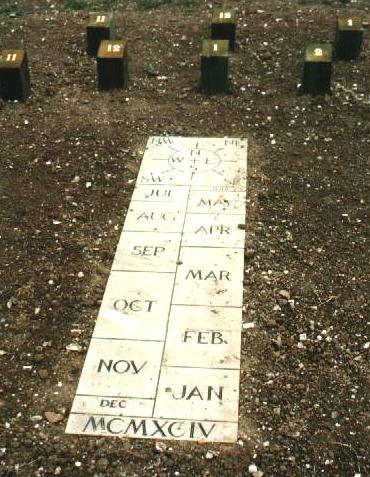 The following picture, shows a similar type of 'hybrid' layout
under construction - and again using wooden posts, for the
Hour-markers. It is located at a School in New Mexico, USA.

For 'wooden post' layouts within any public locations, (such
as a park or children's play area) - please keep in mind that
there is always the possibility of injury, by wood 'splinters' !

Other 'hard' materials also have potential risks and dangers.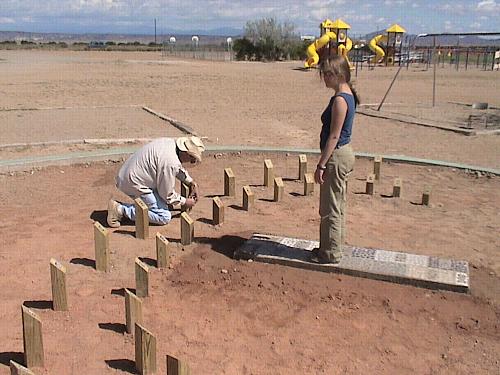 This next photograph, below, is another 'hybrid' - showing
a close-up of an Hour-marker which has used a mix of both
wood (for its number), and surrounded with simple mosaic.

It is at the "Denton Primary School" (in Northamptonshire),
plus our mosaic section has details on the technique used.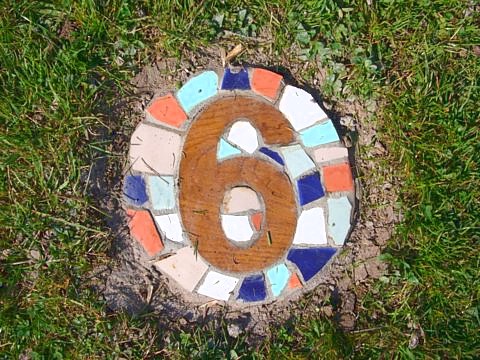 If you want to avoid 'man-made' materials (such as concrete or
mosaic), by instead using only 'nature-based' ones - then this
next picture shows a layout, made entirely of wood and stone !

This is located at "Hudson Highlands Nature Museum", in New
York state, USA. The photograph beneath it, is its 'Date-scale'.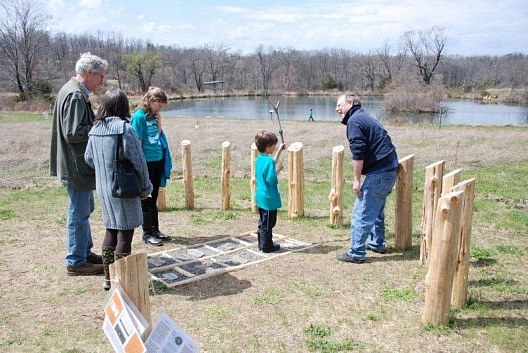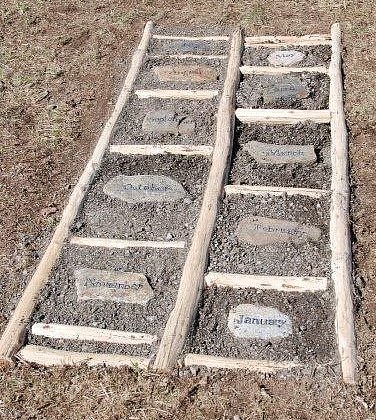 Rather than locating them in prominent park areas, sometimes
a "Sunclock" will be deliberately 'tucked away' adjacent to any
lesser-used pathways - so that they could then be discovered
as 'surprise' features, by the people exploring those locations.

The photograph (below) shows such a wooden layout, situated
at "Helix Park", near Falkirk, Scotland - it was created in 2013.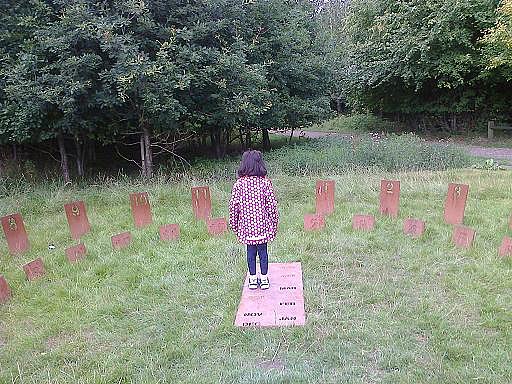 Unlike those 'hybrid' layouts (shown above), the picture below
is a "Sunclock" which has been made completely from wood.

Located at Overton, in Hampshire, (UK) - this was created by
using oak, set into gravel, so that no maintenance is required.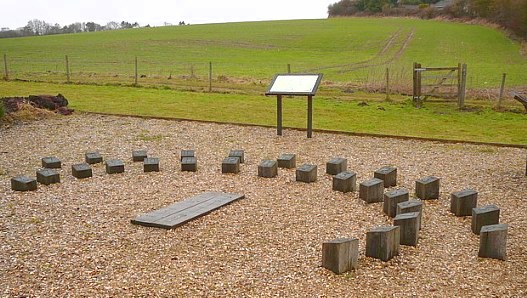 For some 'ready-made' kits of "Sunclock" parts, in wood - we
recommend you telephone Hugh McKenzie, on: 01892 770859.

Alternatively, contact Stephen Holehan - who (in addition to a
wooden 'kit'), also produces other traditional sundials in metal.


It would be very easy for you to make money, by creating your
own 'kit' of parts for any Human Sundial - plus this photograph
shows one made by John Ferretti, (for his 'Eagle Scout' award).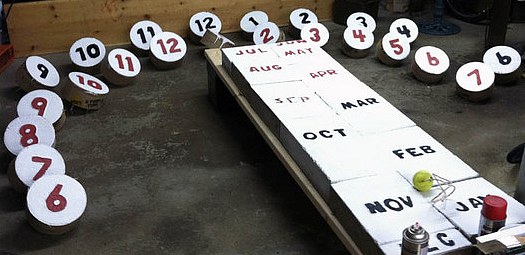 This was installed at the "Somers Intermediate School" in New
York - and the pictures below are its completed layout, plus a
satellite view from 'Google Maps'. Notice that (around noon, in
mid-summer), it is very easy to extend your shadow by raising
your arms above your head - which then increases its length.

Further details (with photographs) on this 'Eagle Scout' project
may be found, by clicking this link to a local newspaper article.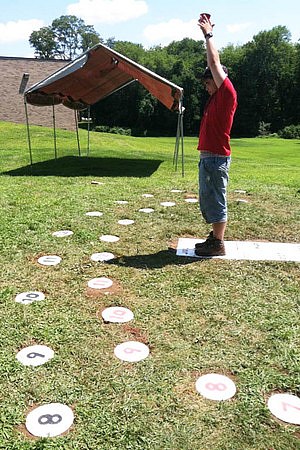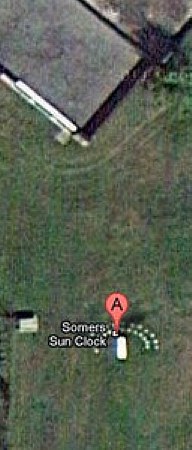 If you would like to see some more of the photographs


you can return to our 'Picture Gallery', by clicking on this icon.

OR


Click on Red Button, to return to FIRST PAGE.



Should you have any questions, then please contact us via our
Response Form - or click on this link to see why "Sunclocks"
have become so popular, when compared with other sundials.


Our unique sundial designs are located in numerous different
situations - from Schoolyards, to private gardens and Parks,
as well as courtyard sundials at prestigious "Stately Homes".


"Sunclocks" are very interactive sundials for children - plus
all of our sundial layouts are 'customized', for YOUR location,
so you can be sure that it would show the correct clock time.


These are particularly popular within the Educational Sector,
due to many 'curriculum-wide' aspects, of a Human Sundial !

You could click these links to see why "Sunclocks" are now
often used as school sundials, plus the benefits for teachers
(including 'fund-raising') of these novel sundials for learning.


As garden sundials, there are advantages over the 'pedestal'
type - mainly since our ground-level "Sunclock" cannot be
stolen, plus it does not interfere with grass-cutting of a lawn.

Click here to find why this sundial has become very popular,
when compared with some of the other 'conventional' types.


Remember you can also make money with Human Sundials,
so please get in contact with us if you may want to create an
income, from this unusual opportunity. We recommend that
you telephone us, asking to speak direct with Douglas Hunt,
whose sundial plans have been used world-wide from 1986.

Douglas should then be able to discuss a few 'possibilities',
plus give his advice suited to your personal circumstances.



Click on this 'book' icon, to see a list of ALL the pages in our web-site - and
select your choice of category, from within that
'Sitemap'
section :