If an Internet 'search' has taken you directly to THIS page, then
we would strongly recommend that you should firstly go to the
opening page of our web-site - so you can choose any section
of most interest to you (such as Photographs or the Frequently
Asked Questions), before reading about our "Sunclock" Plans.

If you may prefer to have those Layout Plans totally FREE, then
please telephone us to explain your reasons WHY. Similarly, if
you are located within the United States or Canada - you must
also telephone our 'Distributor' (Paul Ratto) on 438 792 4823, to
request a FREE set of Plans. For any customers in Europe (but
excluding the UK), or Australasia - then you could contact the
relevant 'Distributor', whose details can be found on this page.


Alternatively, visiting our 'Sitemap' page offers further options
such as materials - or sources for several ready-made 'kits' if
you prefer those, rather than creating your own unique layout.







In addition to using bricks in 'hard-landscaped' areas, you could
obviously set them into grass. The photograph below shows an
interesting layout, with bricks used to create 'Roman Numerals'.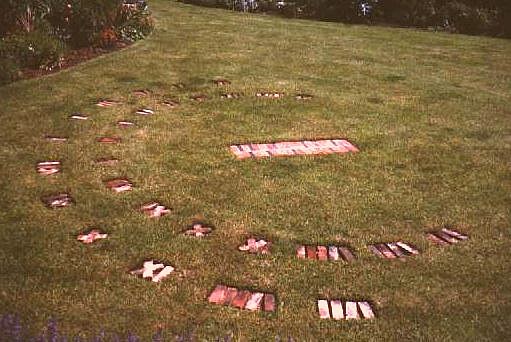 Our next picture shows a "Sunclock" layout which has also used
Roman Numerals on its Hour-markers, and (although the material
looks like this might be brick) - it is actually concrete, which has
had its markings 'stamped' into the parts when these were made.

Note that, around the Northern edge of this layout, there is a ring
of blocks - displaying names of people in their local community,
who had contributed towards installation of the 'Human Sundial'.

It is sited outside a library, at Jemez Springs (New Mexico, USA),
with the lower photograph being a wider-angle 'aerial' viewpoint.

You can get more details at the North American Sundial Society.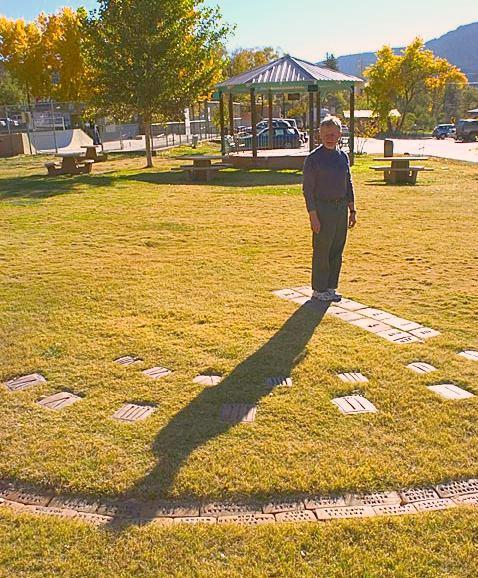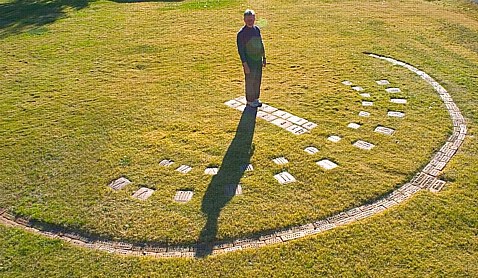 Due to the popularity of our "Sunclocks", several manufacturers
now provide a ready-made 'kit' of component-parts - in order to
satisfy the demand from customers who prefer not to make their
own layouts. One such kit is produced by "Marshalls" (the large
UK-based supplier for 'paving' materials), who had initially made
the parts in terracotta brick - as illustrated in our picture below.

They now market very similar "Sunclock" kits in a 'stone effect'.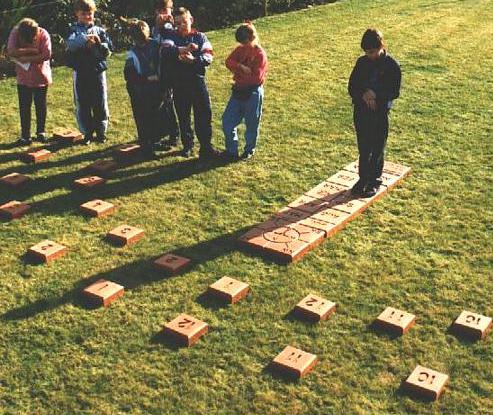 However, the professionally installed layouts will be expensive
(several thousand Pounds), plus are mainly used by Architects !

Here is a 'close-up' photograph, of the "Marshalls" central Date-
scale section of their kit. This picture was featured on the front
cover of "What's New in Building" magazine, in December 1993.

Note that it also has an optional 'motto' panel, ("Walk in the sun
now and always" ) - with a 'compass rose', at its Northern end.



Please note, however, that if an Architect or Landscaper
wishes to incorporate a larger 'compass rose', into their overall
design - then they would need to obtain our customized set of
Layout Plans several weeks in advance of 'installation', as they
will require to determine a very accurate North/South direction.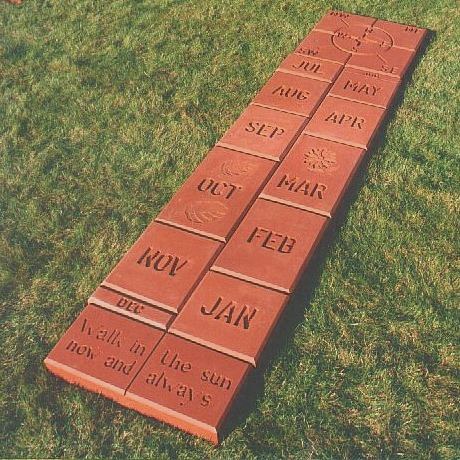 Another nice 'stone effect' kit is also available from "Fosstone",
and at a much lower cost - as illustrated in the pictures, below,
which show a section of their Date-scale and two Hour-markers,
but note that only 'Roman numeral' markings are used on them.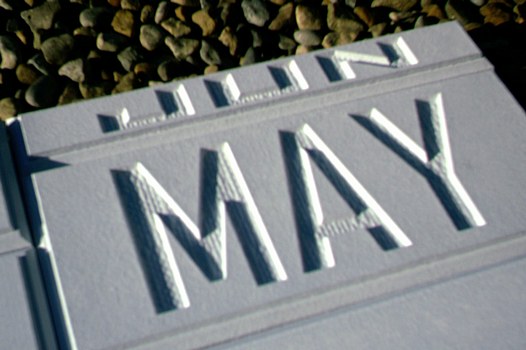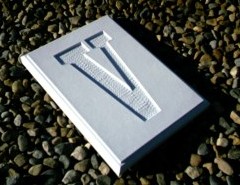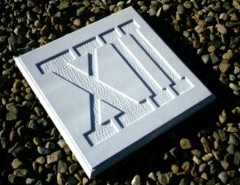 However, because these parts are standardised (produced from
molds) - there will be some 'gaps' between months on its Date-
scale, depending on the geographic latitude of each installation.

Please note their parts could be supplied in different colours, so
as to distinguish between 'Standard' and 'Daylight-saving' Time,
plus this picture shows such a layout at Colne (Lancashire, UK).


Although we were approached by a local Council, in connection
with this feature - we declined to supply the Layout Plans for it
as we considered that it could be a 'hazard' for pedestrians, due
to the component-parts being set above normal 'ground-level' !

In such cases, if we think that any proposed installations would
be potentially 'dangerous' - then we suggest that a Client uses
other designers, so that our own good reputation is maintained.

It is shown as an example of how layouts should NOT be made,
plus this 'link' gives a similar opinion (from a local newspaper).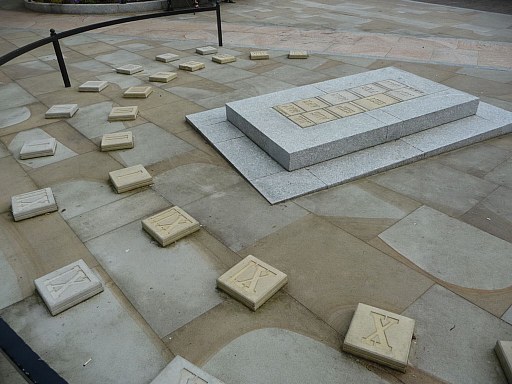 In contrast to the above, this photograph below shows how any
"Fosstone" kit SHOULD be correctly installed - and illustrates
the 'inauguration ceremony' of a layout, located at Jesus Green
(Cambridge, UK) to commemorate a local Rotary Club member.

Unfortunately, it is a pity it was raining on that day - but if you
might like further details of the layout, please send an E-mail to
Frank King (who is 'Chairman' of the "British Sundial Society").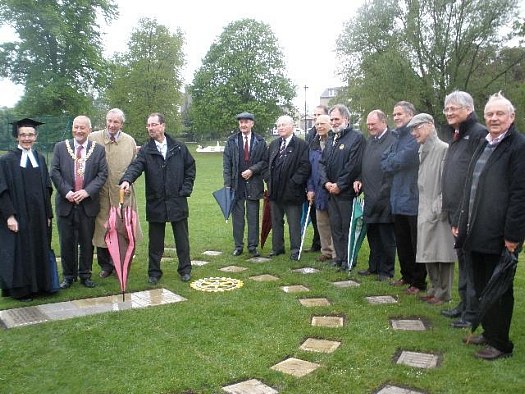 Our Stately Homes page shows another photograph of their 'kit',
where it is situated in the grounds of a castle (North Wales, UK).

That picture (at Bodelwyddan Castle) is a safely-installed layout,
and which does not affect normal grass-cutting of the lawn area.


You can click this link, to visit the "Fosstone" web-site for more
details - or simply telephone Martin Hoggart, on: 01484 517412.

Alternatively, contact Debbie Simpson who can perhaps supply
very similar stone 'kits' - by telephoning her, on: 01377 256562.

To find further UK stone-workers, see this page of our web-site.



Particularly within school situations, please be aware that some
children can possibly get hurt on the fairly sharp edges of these
reconstituted stone parts - if they became 'slippy' in any wet or
icy conditions, (or eventually get covered with moss and algae).

These dangers apply to similar 'hard' materials, such as mosaic,
and there are additional 'implications' for layouts in public areas.


Feedback from teachers indicates that 'fights' regularly occur in
school playgrounds - between those children who want to use
the "Sunclock" for time-telling, plus others who want to use its
Date-scale, for an unusual 'Hop-scotch' grid ! Obviously, these
fights greatly increase the risk of injury, if the pupils trip or fall.

Unfortunately, there is now a growing 'compensation culture' in
UK schools - where Educational Authorities are being sued for
accidents to pupils, and a newspaper article gives more details.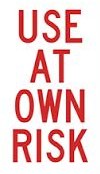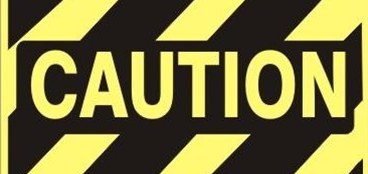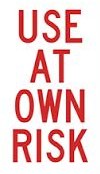 This is why all schools within Canada have effectively 'banned'
"Sunclocks" due to associated Health and Safety implications,
so require written permission from their Educational Authority.

Even if they obtain such approvals, please note that our sets of
Plans are 'ILLEGAL' in the Province of QUEBEC - due to being
only supplied in English language, (but not available in French).


Similar 'approval' is also needed, for schools in the Republic of
Ireland - though there is no such restriction for schools within
Northern Ireland, (because that is part of the United Kingdom) !

However, we realise that some schools attempt to ignore these
written 'approvals' - but we do not condone this, plus it will be
entirely at THEIR OWN RISK if they decide not to request them.

Contact our North American Distributor, for 'advice' on Canada,
or our European Distributor concerning the Republic of Ireland.


Also please consider that because a "Sunclock" would 'entice'
children to spend more time outdoors, in the sunshine, there is
an increased chance of them developing 'skin-cancer' in future,
(which is why Australian schools discourage a Human Sundial).

E-mail our Australian Distributor, for any further advice on this,
as you might also need official Educational Authority approval.


Because 'Human Sundials' are especially popular with children,
layouts can also unfortunately attract paedophiles to that area !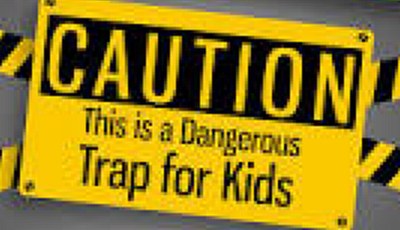 Just imagine the bad publicity you may get, if a local newspaper
ran the article "A 'Human Sundial' will be created in your area to
attract drug addicts, paedophiles, or other undesirable people" !

So please think very carefully, before proceeding with a 'public'
layout - and maybe conduct any simple 'market research', just
to establish if local residents will be happy to have this feature.


However, regardless of these 'risks', our "Sunclocks" are used
as extremely popular and very interactive educational sundials,
plus being included in School-books or magazines for teachers.


To totally avoid any such risks - remember that an 'alternative'
"Art & Craft" project, is for children to make small (plus cheap!)
working models, simply created using just paper or cardboard.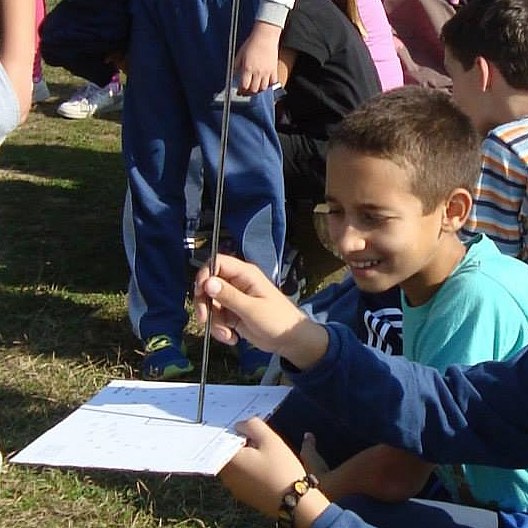 Those models can still tell time accurately all through the year,
and also change themselves automatically for Daylight-saving.



Rather than brick, concrete, or 'reconstituted' stone - you may
instead prefer to own a "Sunclock" which has been made from
real stone material, and clicking on this link will take you to the
page which has details plus photographs, of several such 'kits'.

Bear in mind, however, that those will be more expensive (and
are heavier for transportation), than 'reconstituted' stone parts !


If you would like to see some more of the photographs


you can return to our 'Picture Gallery', by clicking on this icon.

OR


Click on Red Button, to return to FIRST PAGE.



Should you have any questions, then please contact us via our
Response Form - or click on this link to see why "Sunclocks"
have become so popular, when compared with other sundials.


Remember you could also make money with Human Sundials,
so please contact us if you may be interested in generating an
income, from this very unusual 'opportunity'. We suggest that
you telephone us, plus ask to speak direct with Douglas Hunt,
whose sundial plans have been in use world-wide since 1986.

Douglas should then be able to discuss several 'possibilities',
and give some advice suited to your personal circumstances.


Our unique sundial designs are located in numerous different
situations - from Schoolyards, to private gardens and Parks,
as well as courtyard sundials at prestigious "Stately Homes".


"Sunclocks" are very interactive sundials for children - plus
all of our sundial layouts are 'customized', for YOUR location,
so you can be sure that it would show the correct clock time.


These are particularly popular within the Educational Sector,
due to many 'curriculum-wide' aspects, of a Human Sundial !

You could click these links to see why "Sunclocks" are now
often used as school sundials, plus the benefits for teachers
(including 'fund-raising') of these novel sundials for learning.


As garden sundials, there are advantages over the 'pedestal'
type - mainly since our ground-level "Sunclock" cannot be
stolen, plus it does not interfere with grass-cutting of a lawn.

Click here to find why this sundial has become very popular,
when compared with some of the other 'conventional' types.



Click on this 'book' icon, to see a list of ALL the pages in our web-site - and
select your choice of category, from within that
'Sitemap'
section :