If you find problems with any links on this site,
please advise us so that we can correct the problem.
SunClocks North America
Use a person's own shadow to tell the correct time
---
Educational Benefits
SunClocks were quickly adopted by schools as they make an excellent addition to any educational environment. In addition to its numerous general benefits, many schools use SunClocks for a curriculum-wide project, as it has many educational benefits: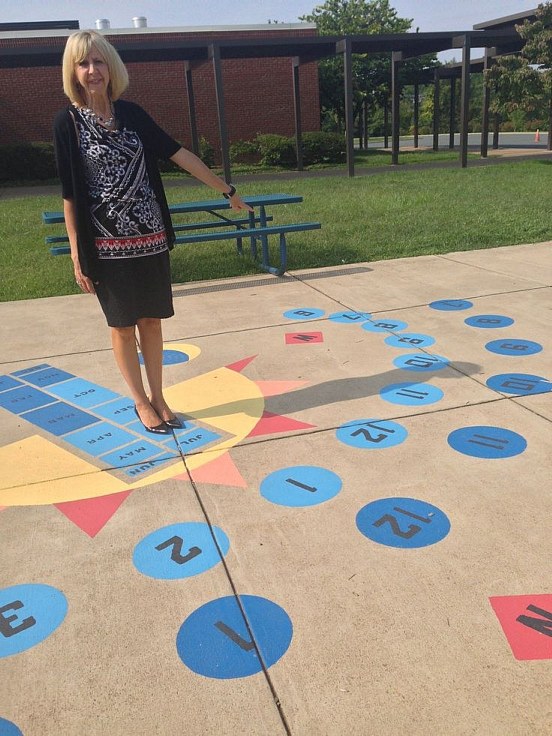 Can be used to help fulfill several educational requirements as it offers wide ranging educational tie-ins:

Math
Geography
Astronomy
Arts & Crafts
and, in conjunction with a Time Capsule fundraising project:

Helps teach children how to use a simple Cartesian (X Y) coordinate system for easily laying out the SunClock design.
Directly involves students while giving give them a lesson in Teamwork and Cooperation.
Ideal for any 'outdoor classroom' areas or for schoolyards or other play areas.
Makes for an attractive and aesthetic addition that brightens up the schoolyard.
Can easily be built using inexpensive materials, thereby allowing schools with limited budgets to have an inexpensive, fun and educational DIY project that can actively involve students and staff alike.
Can be installed using very inexpensive paint that would wear out, allowing students from future classes to benefit from projects to redo the SunClock.
Even children as young as six or eight years of age can help paint or otherwise decorate basic SunClock layouts.
A simple SunClock design that is painted directly onto the tarmac can usually be installed in a single afternoon. See this short video from the European distributor of our Human Sundials to see how it's done!
Can often be made self-funding by associating it with a Time Capsule fundraising project.
Small working-models of the SunClock can also be easily and cheaply built, using a pencil to cast the shadow normally cast by a person on a full size Human Sundial.
They are very simple to produce for students to bring home in order to observe how they accurately indicate the time throughout the year.
Moving the pencil along the Date Scale can help actively illustrate the changing of the seasons during the year.
Making such simple working scale models would also be a good way to involve more people who are not directly involved in the installation of the full-size "SunClock" layout.
If the school doesn't have suitable ground area for a full size SunClock, these working-models can also still offer most of the educational benefits of the full size SunClock.
---
If you find problems with any links on this site, please advise us so that we can correct the problem. Top
SunClocks North America
Montreal, Quebec, Canada
TEL: 438-792-4823